Posted By Kathleen David on October 8, 2013
So Caroline has decided that she will not be Amalthea for Halloween. Instead she designed her own vampire princess dress with special effects. I think part of it came from stuff she has seen on Face/off and Heroes of Cosplay.
The original drawing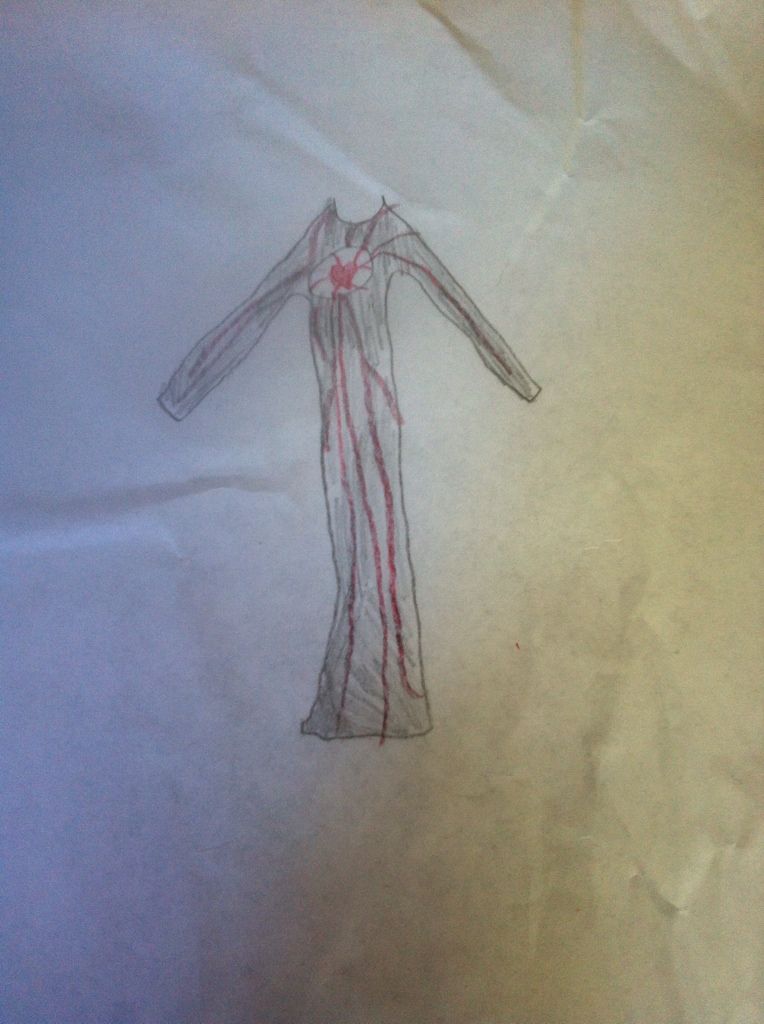 (for the VI This is a drawing of a long black dress that Caroline drew. She put a beating heart in the middle and red for the veins running through the dress.)
She described it to me as the special effect is that the heart beats and the veins through the dress glow red. We talked about it a bit more and she refined her design.

(For the VI: The is Caroline's white board. To the left, slightly obscurd, are the words "Mommy, could you please look at this?" with a pumpkin smiling and winking under it. To the right of that is her concept for the veins that are going to go over the dress done in red. There is an orange heart in the middle. To the right of that is the design for the black dress. There is a piece of the drawing missing where Fig the cat had put her paws. To the right of that is a side view of the dress with a bustle in the back to give it some shape. )
She did this on her white board so she could refine what was in her head and get it onto the board. This was the final of several versions of the design she has created. The skirt will go longer than that. This was her concept for the top of the dress.
So she has gotten it to where she wants it and has handed it over to me to bring it to reality. I have to check and see if I can get the EL wire and battery pack(s) needed to do the veins. I have already gotten her to compromise on how many veins we can do. I know where I am getting her fangs so I don't need to make those. I have the make-up and the skills for that part.
Next step is to pattern the dress and then put it all together. Should be a challenge but she believes I can do it so I will give it a go.
I am grateful for my child's artistic eye.