Posted By Kathleen David on May 7, 2013
I found my portfolio that has been missing for a couple of years now. It had wedged itself behind my desk. So today I thought I would show you a few of my earlier pieces and one of the costumes I am proudest of.
Come join me in a blast from the past.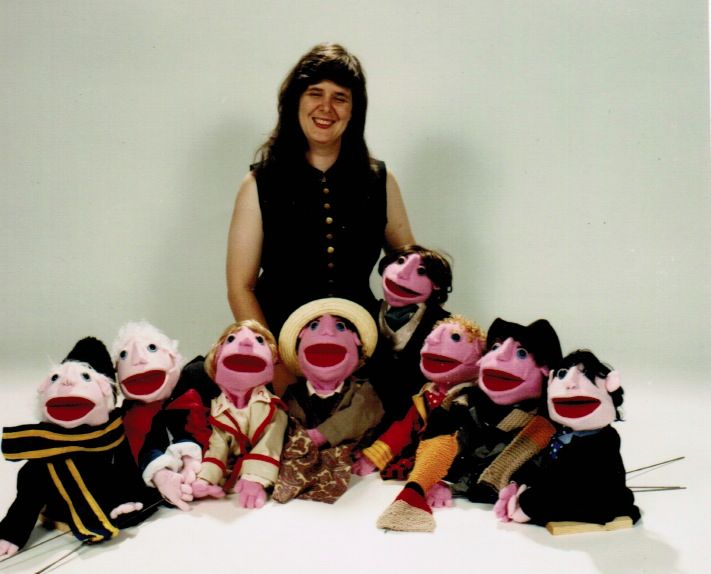 This is my first set of Dr. Who puppets, which were done right after the TV movie in 1996. This was a profession photographer that worked at the Nursing school who shot these for me and for his portfolio since he had never shot puppets before.
(For the VI: This is my Dr. Who puppets and me. We are sitting on a white floor with a white back drop. I am in the middle wearing a sleeveless vest with the 8th Doctor on my knee. In front of me in order is In front of me in order is Dr. #1,Dr. #3, Dr. #5 Dr. #7,Dr. #6, Dr. #4, Dr. #2.)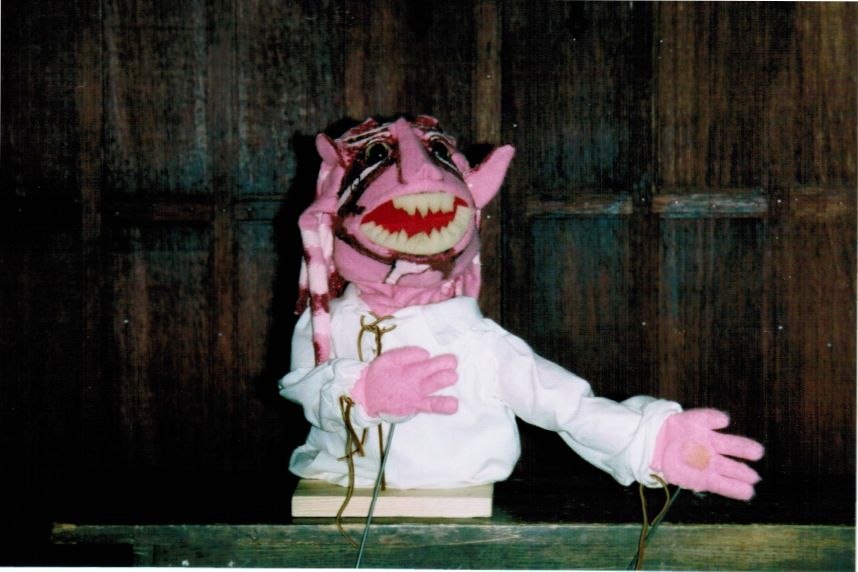 Peloquin from Nightbreed currently owned by Clive Barker.
(For the VI: The puppet is sitting on a brown stage with a brown background. The puppet is wearing a white poet's shirt. He has dreadlocks that are pink, red, and white strips. His face has a pattern of it with the same pink, red, and white. He has a mouth full of very sharp teeth.)

Pinhead from Hellraiser currently owned by Doug Bradley
(For the VI: The puppet is shot again a black background. It is a white puppet with pins in its head. The eyes are black. The outfit is back with vertical red strips in the front of it.)

This is of a much more recent vintage. I made all the costumes except the Belle Costume which was brilliantly constructed by Susan Olesen. We called this sketch Beauty and the Beast(s). From left to right we have Vincent from the 1980s Beauty and the Beast, The Beast from Disney's Beauty and the Beast, Belle, and Hank McCoy aka Marvel comics' Beast.
(For the VI, I am on the left wearing a leo-noid latex face. I have long blond hair. I am wearing a black cloak with a grey patch on the right shoulder. I am wearing a white shirt covered with a quilted grey vest and a brown belt. To my right is Ariel decked out in an oversized head of the beast. She is wearing a blue tail coat with a gold lining, a gold vest, and a white shirt. To her right is Marina who is wearing the yellow/gold Belle dress. To her right is Peter in blue Beast make-up with a black wig and sideburns, He is wearing a grey suit and carrying a champagne bottle.)
Next week more puppets that have stories behind them.
I am grateful that I found the portfolio.