Posted By Kathleen David on April 4, 2013
I found a cane I thought Peter would like and got it for him since it was on sale at a good price for a solid cane. It is jazzier than the one he has been using. He loves it because of the balance and the handle.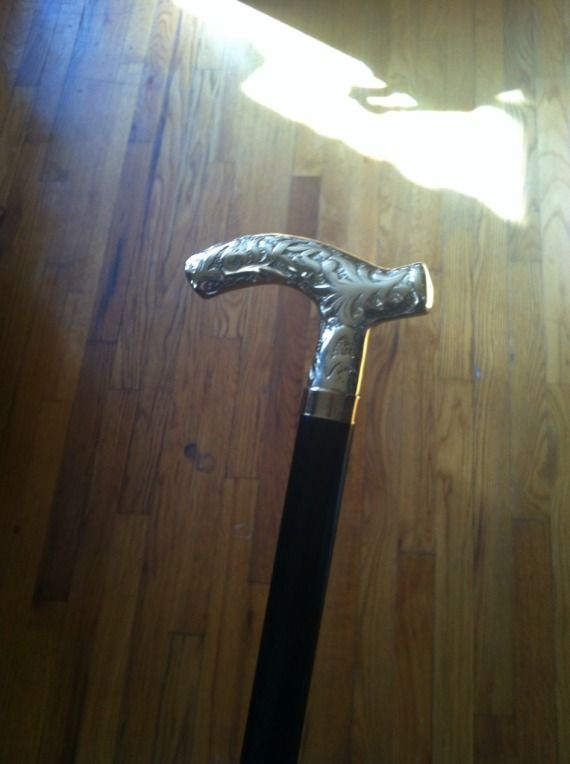 (For the VI: This is a black cane with a brass handle. The handle is in a T shape with the front of the T being shorter than the back of the T. There is a design in the brass.)
Ariel found for Caroline something I knew existed but I had never seen one. She found it at Hot Topic and it was the last one they had there. When the character showed up on My Little Pony, I couldn't believe it. They gave it the name "Time Turner" but that didn't last long and now he is known as Dr. Whooves. The only thing they could have done with the packaging that would have been an even bigger wink, wink would be to make the box blue.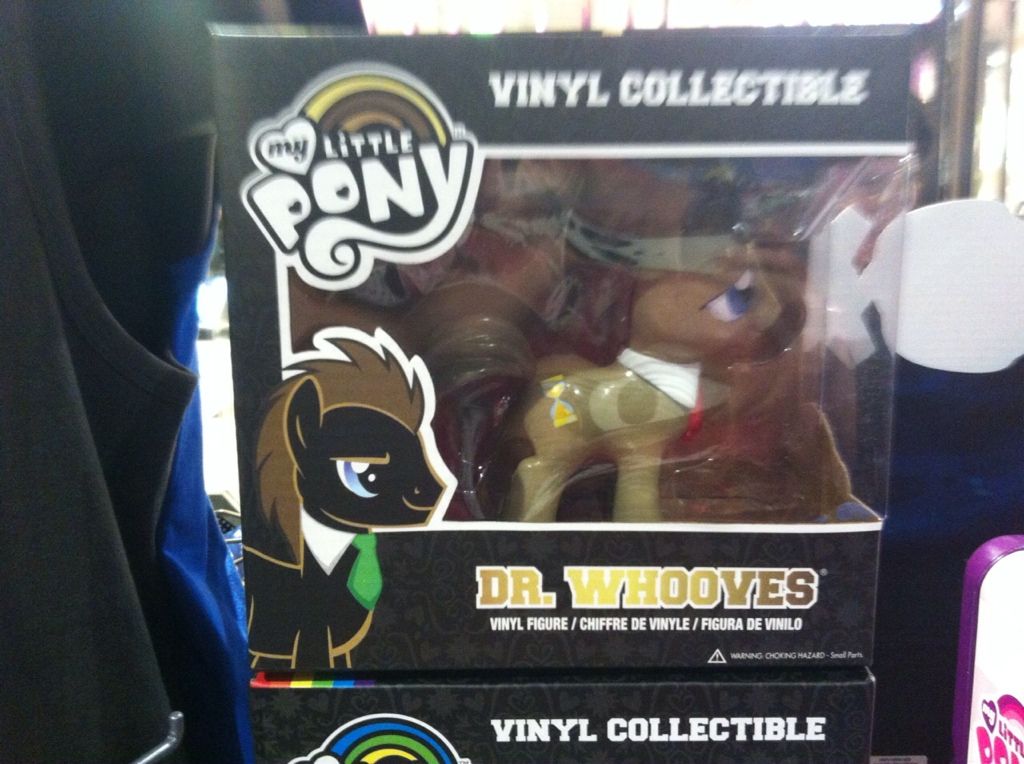 (For the VI: This is a My Little Pony Figure in a black box. Above the pony it says "Vinyl Collectable". To the left is the My Little Pony logo. Below the pony it says Dr. Hooves with a picture of the pony to the left of the writing. The pony in the box is brown with a brown mane and tail, a white collar and tie and an hourglass on his rump.)
Waiting for my allergy meds to really kick in. I am so tired of the drip in the back of my throat. I have been on them for a week so if it holds true to form, I should be a lot less sniffy in the next couple of days. I should buy stock in Kleenex.
Caroline is dealing with some issues that are leaving her very confused. It has to do with kids that she had been friends with but things changed for all of them and there have been some difficulties. All of the adults have told all the kids to keep away from each other. Caroline just wants to know why she lost her friends. I had to sit down with her and explain that people change and situations changed and both her situation and these kids' situations have changed rather radically in the past three months. She is in the same Girl Scout troops as these kids and I have talked to the troop leader as have the other parents so they are up to speed on the whole thing. I am hoping that in the future this will all get sorted out but right now I have to explain to Caroline why things don't stay the same.
Peter can finally touch his right thumb to his right pinky. He has also been typing more. Not as fast as he had been but he is typing again along with using Dragon Dictate. The shoulder is still an issue. I am going to ask his primary Doctor to have another look at it because I am starting to think there is more to this than it looked at first. I think he damaged it in one of the falls he took after he had the stroke. But he is progressing and is still improving and I am thankful for each and every one of them.
I am doing fine. The neck is pretty much as good as it is going to get. Now I have to deal with an inflamed tendon on my left ankle. It happened during bowling on Monday night and it is really not getting much better right now. I did my usual approach and came down on my right foot and felt pain shoot from the ankle to my head. I hopped off the lane and sat down. The problem was that I had to pin left. So they gave me some time to recover and I shot the pin. I tried to finish the game but it was not happening. I need to find my ankle brace and put that on for some support. I really don't have time for my body to continue to break down piece by piece.
I really hope what happened at Rutgers and the exposing of the coach's behavior will tell all student athletes that this sort of bullying is not how to coach. Motivation my ášš. What I saw was straight up abuse. And I have a feeling that this is the tip of the iceberg. The NCAA is going to have some serious explaining to do along with the schools as we find out that this sort of bully behavior is going on at other colleges.
Well onto the next project and the one after that. Life goes on. That and I need to find another box of tissues. If Spring is here, why is it so doggone cold? It doesn't seem fair to have allergies without the warmth of the Spring.
I am grateful for any part of Peter's dexterity that is returning. The sooner he can type again, the happier he will be.