Posted By Kathleen David on December 8, 2012
We have, as any long time reader of my blog or Peter's, a number of cats in the house. The older cats are about 18/19 years old.
Meet Treat Williams the Cat aka Big Boy aka Idjiot aka the Amazing Barf Bag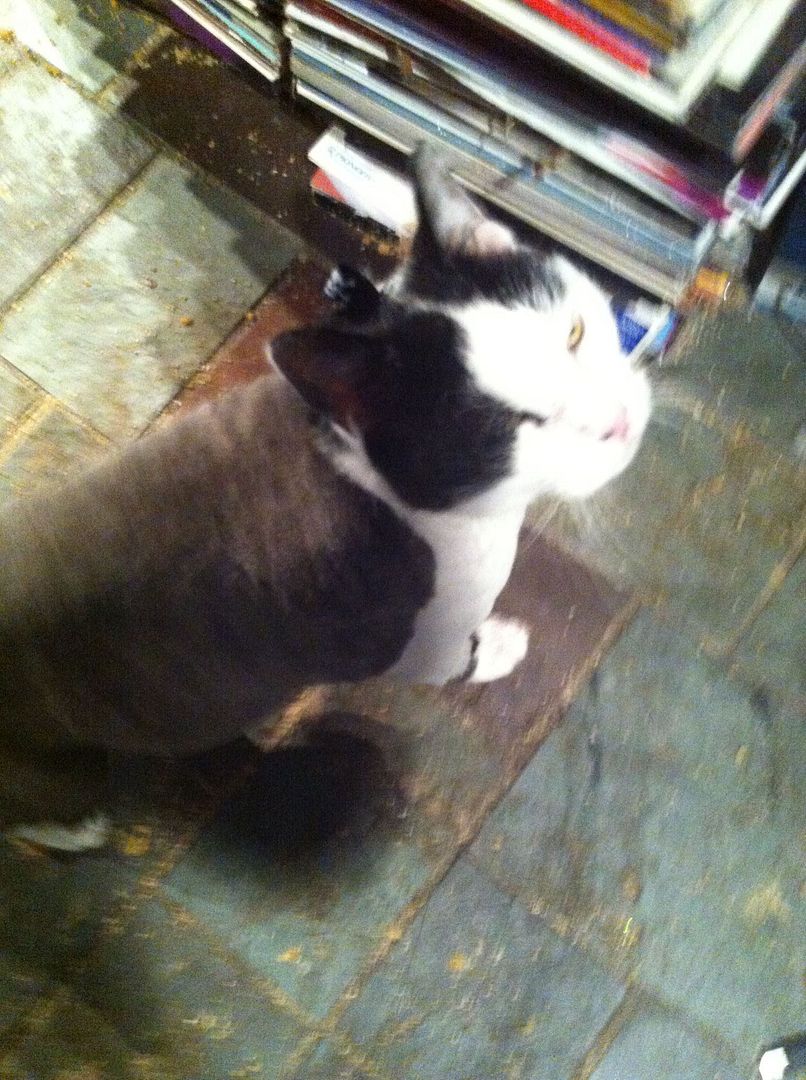 (For the VI this a top view of Treat Williams the cat. He is black and white. His back is black. His paws are white. His face is half black and half white. He is looking up at the camera with a rather bored expression. You can see his green eye on the white side of his face.)
Treat lives in Peter's office because in his advanced age, he doesn't play well with others. He occasionally has gastric distress and turbo barfs all over the floor but nothing that has really effect his health. We have found a food that is nice to his tummy and we pick up the dried food that falls from his bowl so it doesn't mold and then he eats it and then he barfs. He is very people friendly and loves scritches. He has a bit of a weight problem that we have solved by limiting his food intake. On the whole doing pretty well for a cat of his size and age. We get him shaved twice a year to deal with his dandruff problem and he loves it because he doesn't overheat. So he is usually much fluffier but this photo was taken after he got back from the groomers.
Yesterday I went down to Peter's office to talk to him about the rest of the day. Treat got up from the couch and he was bleeding from his rear a lot. We checked the couch and there was a pool of cat blood on it. I got Treat up into the cat carrier and Peter took him off to the Emergency Vet because our regular vet was closed.
They cleaned him up and determined that he had licked a growth on his bum to the point of bleeding. They weren't quite sure what the growth was but they figured he would be fine to go home and they put on one of those plastic cones so he couldn't lick his butt. He was not happy with it.
Treat and the Cone of Shame


(For the VI: Treat is on the left and Caroline is on the right petting him. She is wearing a yellow shirt and her hair is down. Treat is wearing a plastic cone with a snazzy white bow at the bottom of the cone.)
Today Pete and Caroline have taken Treat to the vet he has been going to since he was a kitten to see what we need to do next. It could be nothing or it could be a big deal since he is so old.
So think good thoughts for Treat Williams the Cat today. I'll update when we know more.
I am grateful that Treat was able to come home last night.