Posted By Kathleen David on August 19, 2012
Here is the photograph of what I did yesterday.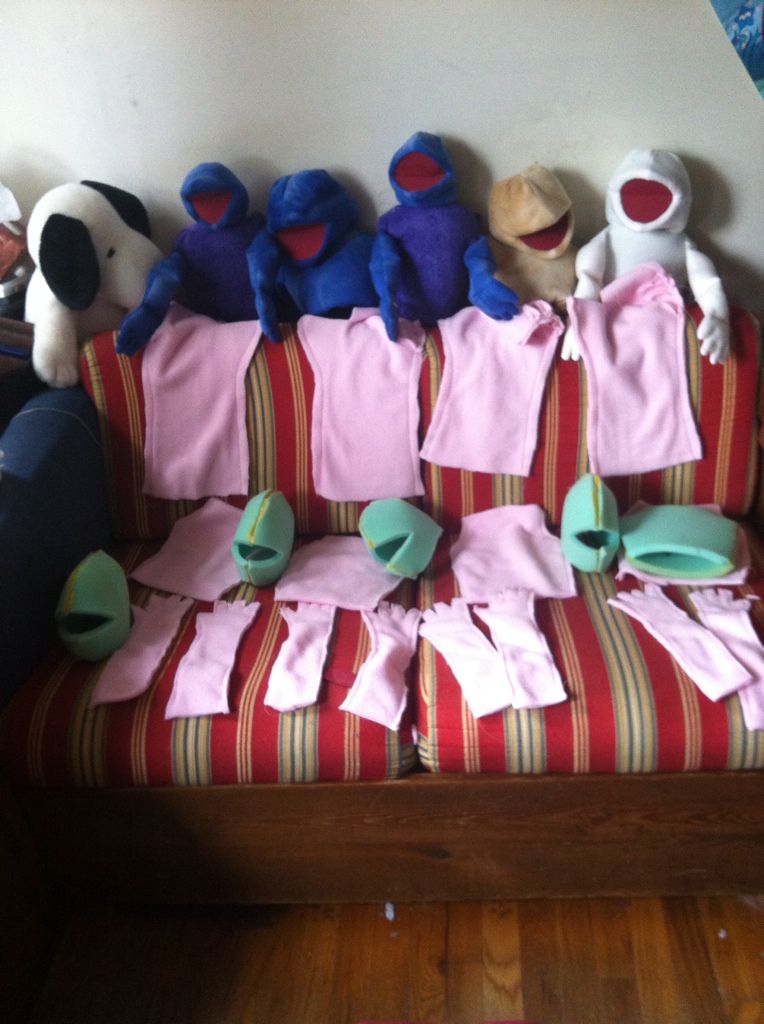 (for the VI: this is my red, green, and gold pattern striped couch on which are puppets and puppet pieces. Across the back of the couch from left to right is our Official stuffed Snoopy we got a SDCC and it lives in the living room if one needs to hug something soft. To the right of Snoopy are the bodies that I completed yesterday. Blue head and arms and purple middle, all blue body, a second blue head and arms and purple middle, a mottled light brown body, and an all white body. Under them are four pink head and neck "skins". On the couch are four green foam heads, four pink torso pieces, eight arms cut out and ready to be turned and stuffed, and one green foam torso.)
Today I need to make three more foam torsos. Finish turning the cloth into puppet bodies. Sew together all three Phluzzies I have left to make. Then sew the bear or cut out the Calot to sew tomorrow.
Progress was made but more needs to happen today. I'll be back tomorrow with a photo of what I made today.
Hope you are enjoying this because this is the next week and a half of my life.
Peter and Caroline had lots of fun at ComiConn yesterday. Today they are moving Ariel back to her college.
I am grateful that I was able to get so much done in a day.