Posted By Kathleen David on June 5, 2012
OK I am falling further behind on several things so I am writing this out in the open so that I can hold myself accountable for what I need to do over the next two weeks and beyond.
Here is what I owe people and am behind on
Two Victorian Paperdolls part of a ATC swap. I did these once and I got back half of the envelope in the mail with no dolls. Looks like it got caught in something and dragged all over the place. This is an evening project I can do while watching TV, I just need to get the pieces together and do it and send it off to the poor person who has been waiting about 2 months for this doll.
My part of a three way doll swap. Sorry Nan and Jeri, I have totally fallen down on this one. This is next after my show on Thursday. I will get things out to Jeri by Monday.
Also by Monday I want to finish my Chamber of Secrets Swap with Lisa. I have it more than half done.

It is a glow-in the dark Basilisk Tooth with a smaller tooth to be worn as a charm. It is on top of a chest that will house the tooth.
(For the VI: this is a picture of a large tooth that I made to look like the Basilisk Tooth from Harry Potter and the Chamber of secrets. It is an off white. Below it is a smaller "tooth" with a hole to run a chain through. These are on top of a chest that I have painted to look aged. It is a brown chest with bronze strapping.)
All I need to do is the interior of the chest and I am done and this can go off to its new owner who I hope likes it.
The BIG PROJECT is Field Day (Yes, it is that time of year)
We are doing an ocean themed variety show.
Here is what I have completed.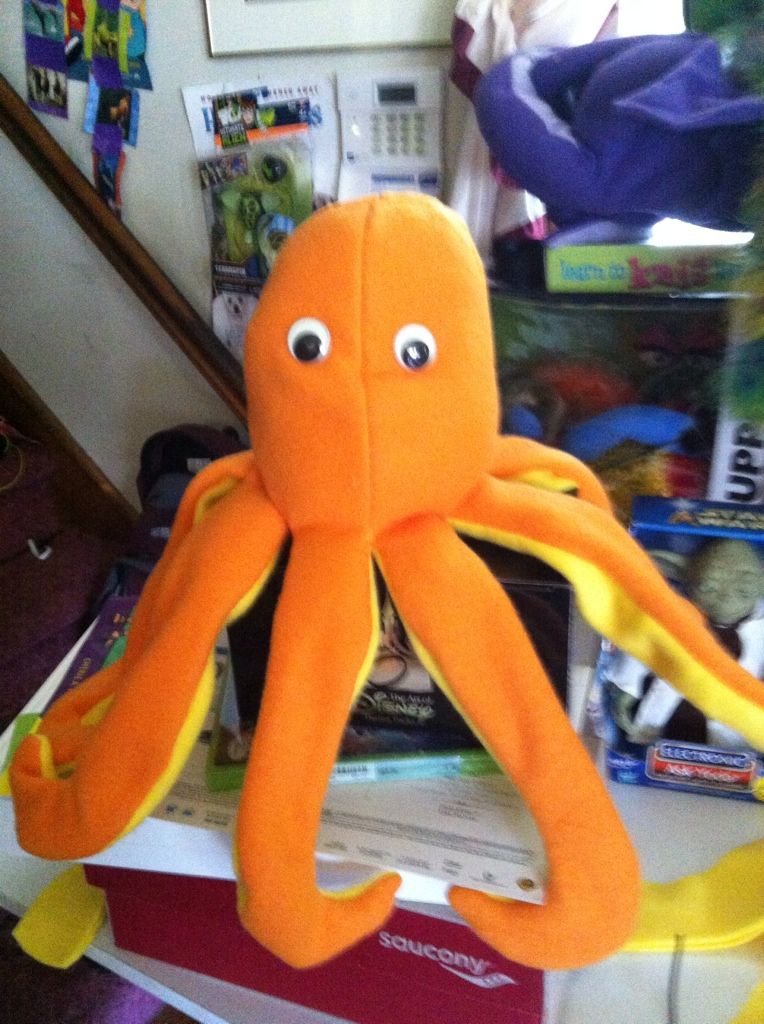 One Octopus in Orange and Yellow
(For the VI: this is an Orange and Yellow Octopus puppet set up on a bunch of boxes to show off the arms)
What I need to do is
3 little Fishies
2 Clams
Outfits for 5 puppets
2 more fish puppets
Scenery
Make sure I have my clip lights and bulbs in place and everything else I bring to the party.
After I catch up on all that, then I will be full tilt into DragonCon.
I am grateful for what we got done yesterday