Posted By Kathleen David on April 13, 2012
But first Happy Friday the 13th! Happened in another month this year as well.
Caroline and I decided this week that we were going to have a trip into the city just the two of us. We kept where we were going a little loose because that gave us some options for staying longer at places or leaving sooner if we wanted to.
On the way into the city, Caroline read her latest Tintin compilation which included "the Secret of the Unicorn" and a couple of others that were used for the structure of the film.

Caroline reading on the Train into the city
(For the Visually Impaired : This is a picture of Caroline sitting on a blue seat on the LIRR train. She is reading Tintin. The book is in her lap being held open by her right hand. Her left hand is against her left temple and she is leaning on it. She is wearing pink sweatpants with a pink castle on the left leg. Her top is grey with grey and pink striped sleeves. Her long brown hair is pulled back into a pony-tail.)
We went first to Midtown Comics to see if we could find her a sketch book since I couldn't find her empty one at home. None there, but Caroline did get some comics she wanted and had a spirited discussion about the various forms of the Lanterns. She wondered why there wasn't a pink one. We went to the Office Depot to find a sketch book which we found a version of.
After that I fulfilled my promise to take Caroline to Mood which had been shorted last time because they were filming Project Runway All-Stars in Mood at that point. She loved it. She looked at all the fabric and I gave her an idea what you would use various forms of fabrics for. She loved it but was also a little overwhelmed with all the choices of fabrics.

Caroline beside a barrel of Animal Print Fabric which she loved esp. the purple leopard print.
(For the VI: This is Caroline wearing her pink Disney hoodie standing to the left of a large cardboard barrel which is filled with rolls of animal print fabric in all kinds of colors. Behind her there is a standing rack of fabric mostly in the purple and blue end of the spectrum)
After that we went to John's Pizza for lunch after making a quick stop at Toys R US to see what was out in Skylanders land. Caroline read her Adventure Time comics while waiting for the food to arrive.


(For the IV: Caroline at the table with a red table cloth. She is reading a comic book. You can see the word ROCK across her chest in white)
Our next stop was the Natural History Museum. We have an app that allows us to find our way where we want to go so I asked Caroline what she wanted to see first and we took off from there. We started in the room with the Blue Whale. I let her take her camera and take pictures while I sat down and watched her from a distance.
After that she wanted to go sketch Dinosaurs. So we worked our way to the big hall of Dinosaurs and she set herself up and started to draw.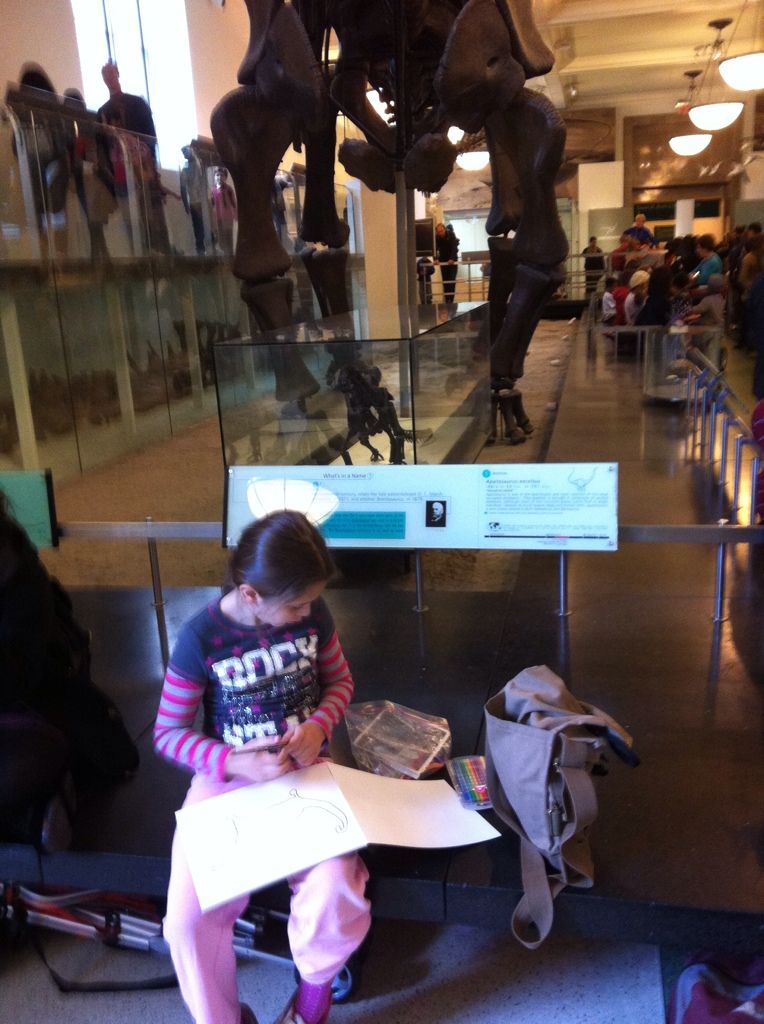 (For the VI: Caroline seated a the back of a large dinosaur replica skeleton. She has a pad of paper on her lap and she is pulling a pen out of a plastic bag. To her left is my brown messenger bag.)
She finished up a couple of drawing and a couple of sketches and decided that she wanted to photograph some reference photos for her art later. We wandered the realm of the dinosaurs for a while until it was time for our visit to the Beyond Planet Earth exhibit.
It was an interesting exhibit about space exploration going forward after an intro to what has gone before. Both Caroline and I found it fascinating but we both questioned the idea of an elevator to the moon. I can't work the physics out in my head given the rotation and orbit that changes slightly constantly.
We lucked into the short ride train home and met up with Peter. Tired but happy for our adventure together.
I am grateful for experiences like this with my daughter.