Posted By Kathleen David on October 28, 2011
This past summer Caroline went with Peter to watch the recording of his next episode of Young Justice. While there she met Kelly Hu who is the voice of Stacy on Phineas and Ferb and Lady Deathstrike in X-2. Kelly was at the recording because on Young Justice she is Cheshire who is a villain in the YJ universe. Kelly and Caroline got along really well and Caroline came home and announced that she wanted to be Cheshire for Halloween.
I waited for a while to make sure that that was her final answer on Halloween. But it stayed all through August and September.
Now yesterday night was the Harvest Dance at her school. The kids show up in costume but heaven forefend we should call it the Halloween Dance. I did dress up in my X-men First Class uniform and took Lockheed with me. I got rated cool by both children and parents who recognized the outfit. Caroline was impressing the older kids and scaring the younger ones and having a blast. Anyway, I had to have draft one of her costume done by the dance. Having had it at the dance, we found out a few things I need to fix by Monday for Trick or treating.
So this past week has been costuming. Behind the cut are photos of Caroline's costume, the making of the Mask, and a photo of the character it is based on.
I am grateful that the costume went over as well as it did.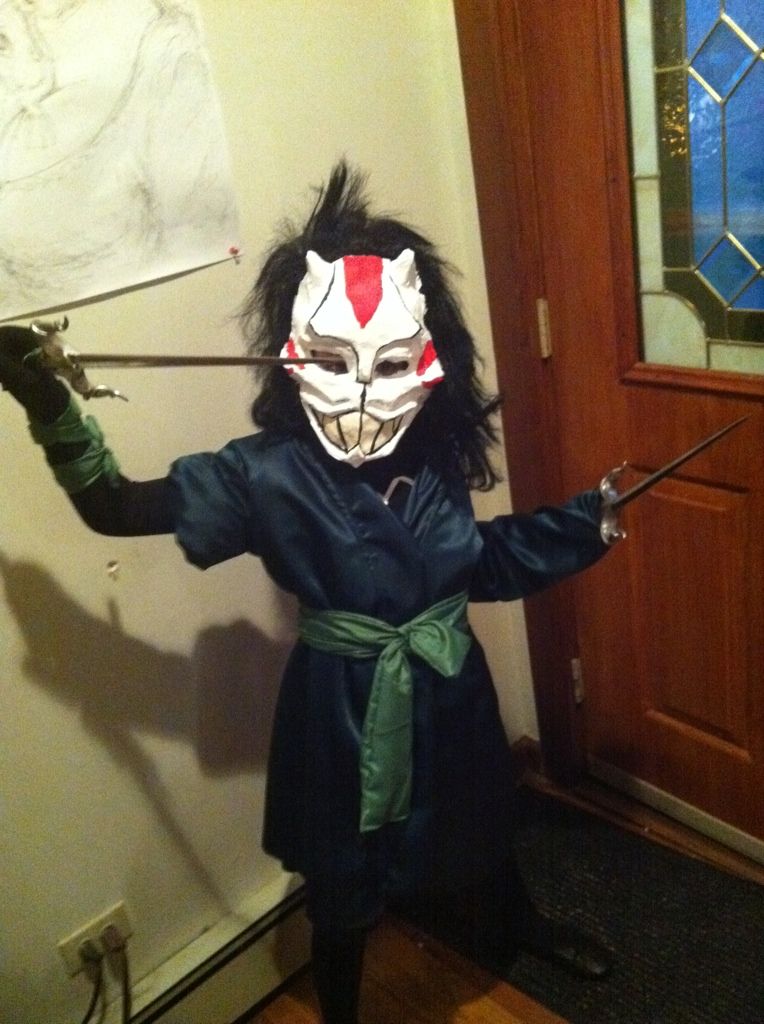 Caroline as Cheshire from Young Justice
(For the VI: Caroline holding two sai. She is dressed in her costume which consists of Black tights, black gloves, a dark green gi with a lighter green belt. She has the lighter green material wrapped around her wrists and arms. On her face is the Cheshire mask with a black wig attached to it. The Mask is a white cat-like mask with red accent marks at the top and sides. The red side marks look like whiskers. There are black lines creating a very large smile and highlighting other parts of the mask as well.)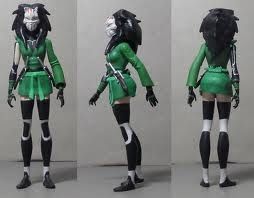 Cheshire Action Figure
(for the VI: This is the official Cheshire action figure done front, back, and 3/4. It is dressed like Caroline is in the previous picture with some additional white detail and kneepads which she has but I forgot to put on)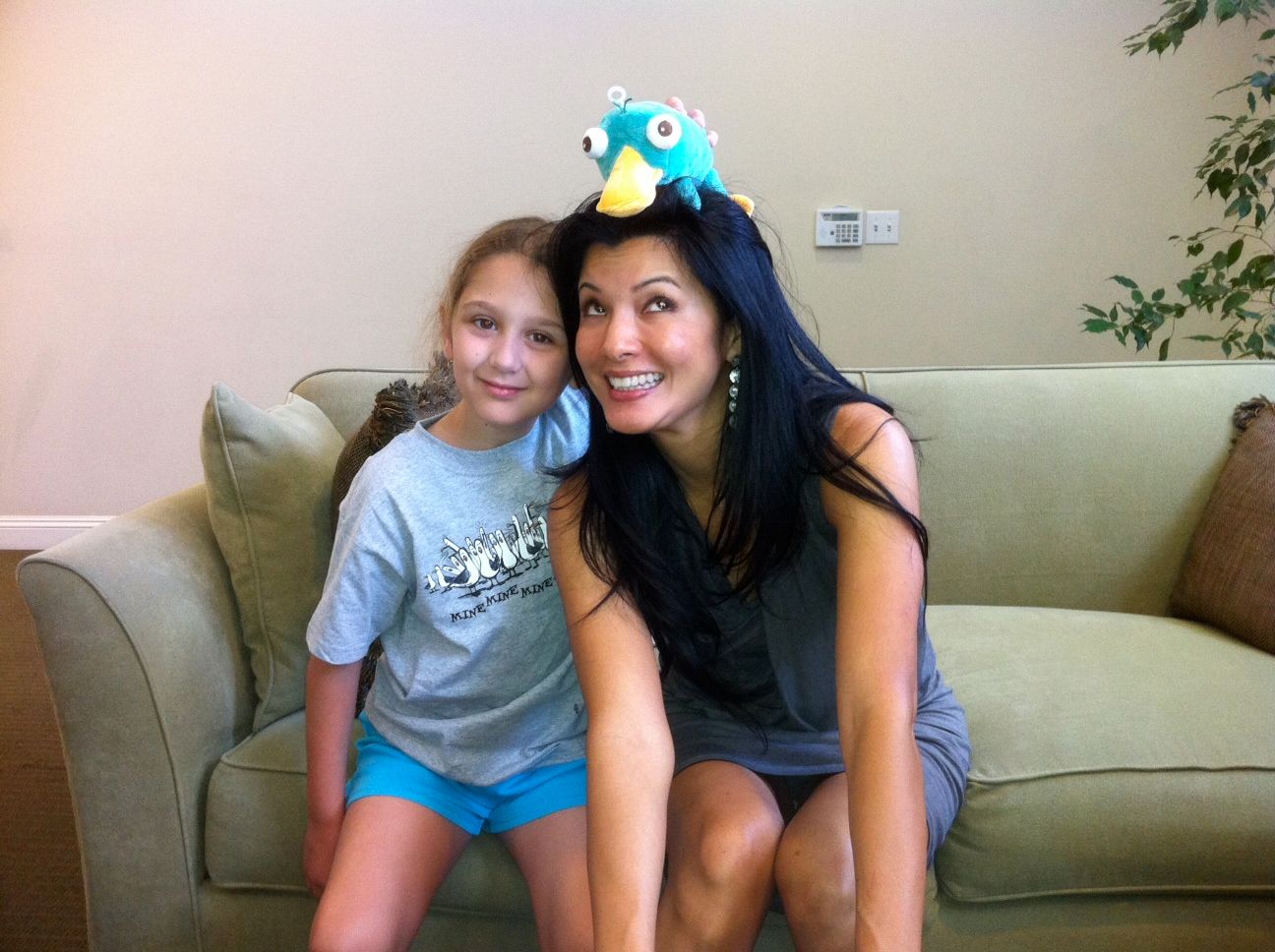 Caroline and Kelly Hu at the taping of Peter's YJ episode
(For the VI: this is Caroline and Kelly sitting on a beige couch. Kelly has a stuffed Perry the Platypus from Phineas and Ferb on her head)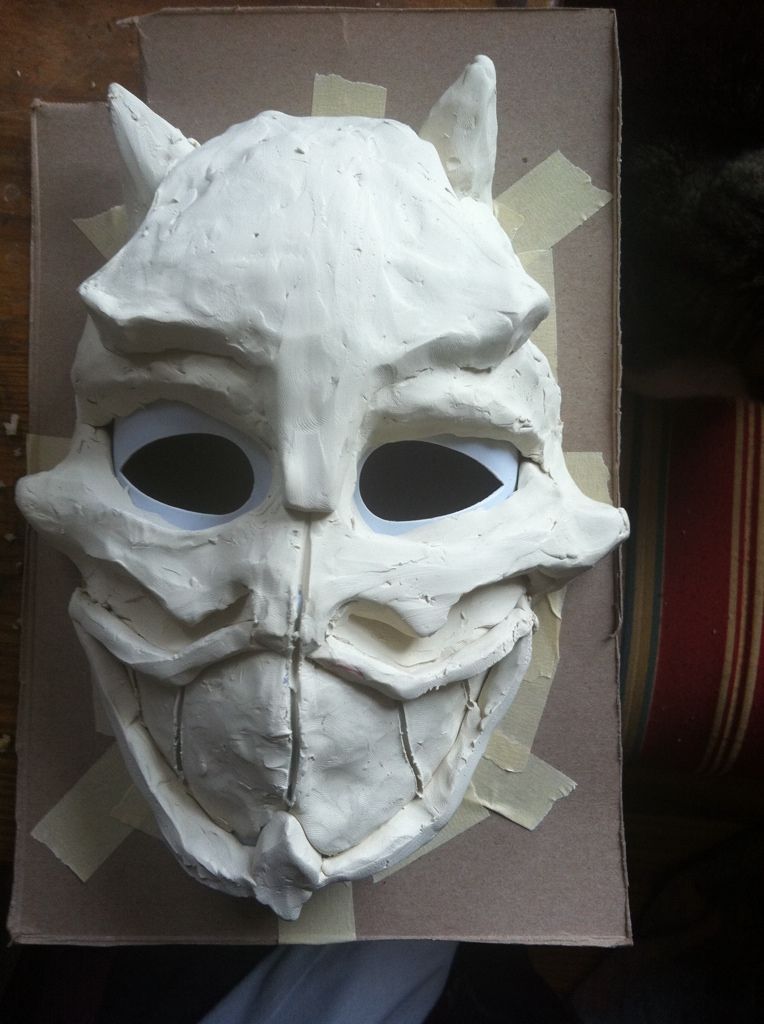 Clay Sculpt of the Mask
I take oil based clay and sculpt the shape of the mask over one of those white full masks. I have to be careful that I can get all the clay out of it after I am done covering it with paper mache.
(For the VI: this is a white full face mask covered with white oil based clay. I sculpted it to look like the Mask that Cheshire wears)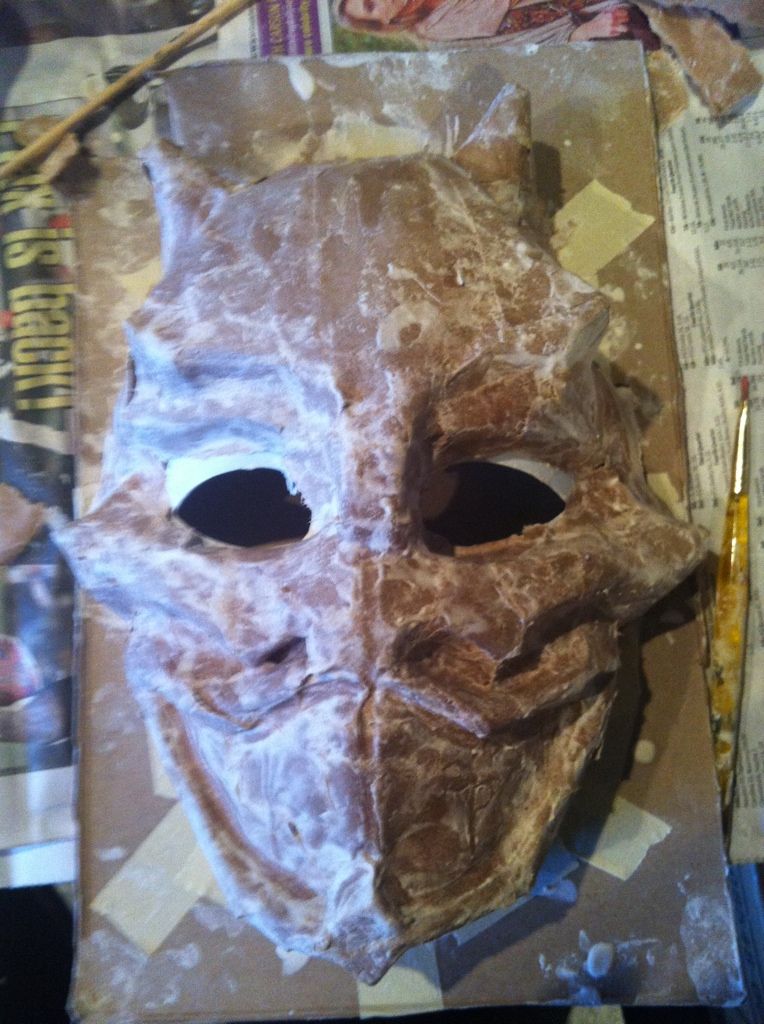 Paper Mache over the Clay.
I use a simple flour/water paste and run strips of brown paper from paper bags and the like. It holds up better for me than newspaper does. I do this in three layers letting each layer dry.
(For the VI: This is the same mask as above but it is now covered in brown paper.)

Removing the Clay from the Paper Mache mask
After the paper dries, I pull the mask off the plastic mask and remove the clay from the paper mache mask.
(For the VI: This is the back of the mask with about half the clay removed.)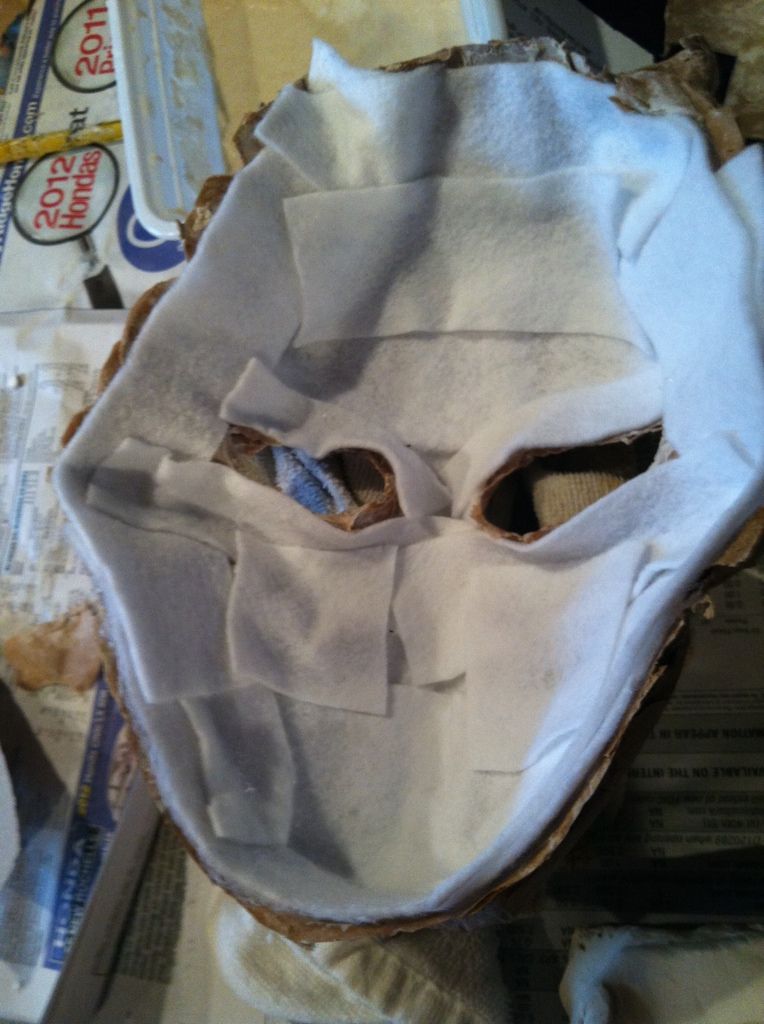 Felting the interior of the mask for strength and support
After the interior of the mask is dry, I take felt (or other forms of cloth) and run it through a solution of water and Elmer's glue. I wring it out and place it inside the mask. This can take the longest to dry and you have to be careful that you don't wet the mask too much.
(For the VI: This is the back of the mask with white felt in it.)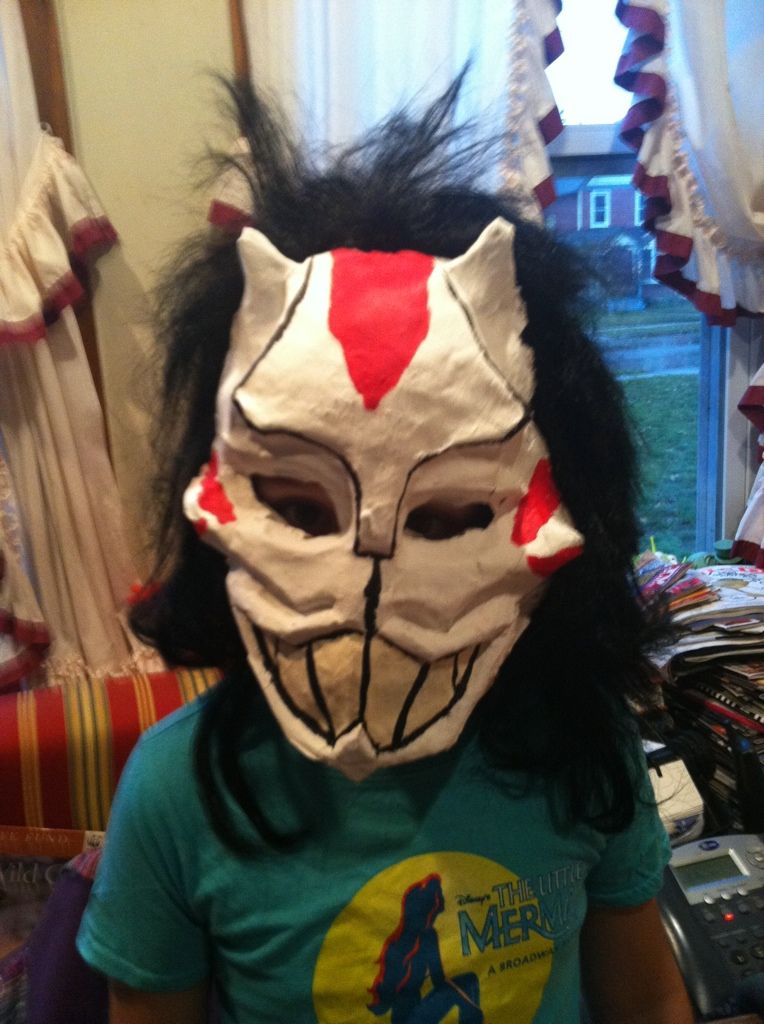 Caroline wearing the painted mask. I attached the wig to the mask for easy on and off.
(For the VI: Same mask as in the first picture. Caroline is wearing a blue Little Mermaid shirt)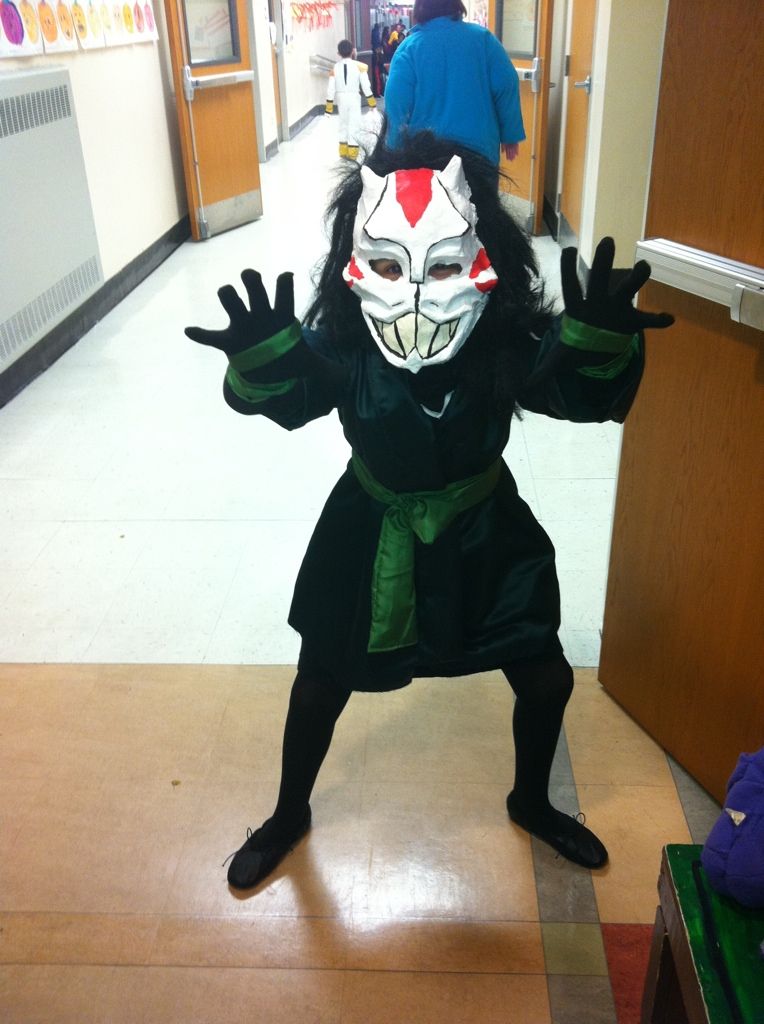 Caroline at the Harvest Dance
(For the VI: Same Costume as the first picture but in the hallway of her school. She has her hands like claws and is bent at the knee)